Kashmira Gander in The Independent

"What if I want to be a trophy wife?" asks a woman in the audience at the Sugar Baby Summit at the plush Ham Yard hotel in central London. Self-confessed sugar baby Clover Pittilla, who is addressing the room at a podium on stage, pauses for a moment and replies "I say do it. Just live your dreams."

Pittilla is a 21-year-old pharmaceutical student, and one of the speakers at the third Sugar Baby Summit event organised by dating app and website Seeking Arrangement. The app enables sugar daddies, and some mummies, to seek out so-called sugar babies to shower with gifts, cash and luxury experiences. In return, sugar babies knowingly provide a pretty face and good company. Today, both experienced and wannabe sugar babies have paid £150 to learn how to attract high-net-worth-individuals. They'll put these skills into practice at a party in the evening. The competition is intense, as Seeking Arrangement permits sugar daddies to have four sugar babies at once.



And this complicated world of course has its own vocabulary. The sugar babies are told that vanilla, or conventional, relationships are not what sugar daddies are into. And salt daddies are men who just want attention but don't want to part with their cash.

To some, the oh-so-romantically named Seeking Arrangement is empowering women and men to be brutally clear about what they want in their relationships. The website and the summit are places where they can find one another and forge, more often than not, relationships with massive age gaps without judgement. It offers privacy for the 40 per cent of sugar daddies and mummies who are married. Sugar babies, meanwhile, find lovers, friends and mentors. Others might argue that Seeking Arrangement users might pretend that the power balance between babies and daddies is equal, but in a world where it lies with the person with the fattest wallet it is therefore, well, creepy as hell.

Stood on stage in a short blue gingham dress and glittery silver stilettos, her long blonde hair swept to one side, Pittilla fits the ultimate stereotype of a sugar baby. She tells the around 70 people in the audience that her sugar daddies have enabled her to travel the world and study without having to resort to eating beans on toast to make her student loan stretch. Her spiel mirrors the adverts on the Seeking Arrangement website, which invite students to sign up and lessen the load of their crippling debt. Students are given further incentive to join with free premium membership.

But the crowd is more varied than one might assume. The (mainly) women here are of all ages, body-types and ethnicities. Some, like Pittilla, are dressed in stunning, hyper-feminine clothes, with towering heels, long hair and spotless makeup. But there are plenty of women in casual clothes that wouldn't be out of place in an office. And one guy with blonde hair dressed in black with a man bun. And they're hanging on Pittilla's every word. When at one point she scrolls quickly through her presentation slides, one woman shouts "you're going too fast!" Other panels cover cyber-security, fashion and making a first impression, staying motivated, and how to manage finances.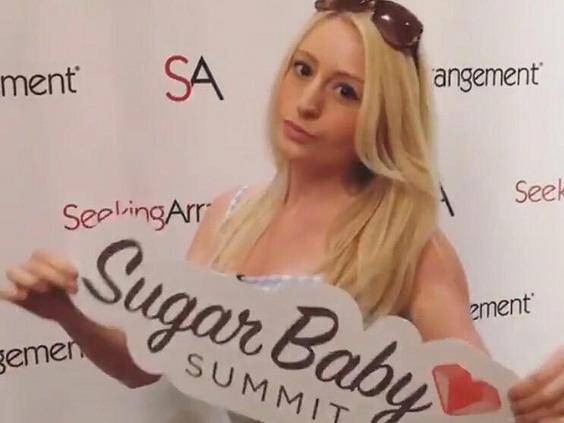 Clover Pittilla advised shared her tips at the Sugar Baby Summit



First off, Pittilla stresses to the audience that being a sugar baby isn't sex work and that the men are not paying them. She then reels off bullet points on from her presentation which unintentionally highlight that finding and keeping a sugar daddy is a little complex. Have your own life and don't put everything aside for a man, but be flexible, she says. Be honest and assertive, but don't be argumentative. Perhaps hint at what you want and don't ask for money outright because you'll seem entitled, and no one likes that. If he doesn't call you or doesn't text back, "don't be argumentative because no one likes that, either". "Make him feel needed, because guys like to be needed," she adds.

"He's paying you," Pittilla lets slip during her presentation, quickly correcting herself to add "well, no he's not. He's definitely not paying you. What he gives are gifts".

Emma Gammer, a 28-year-old sugar baby who married and divorced a sugar daddy, follows Pittilla's presentation. Gammer advises women to include keywords in their profiles that attract sugar daddies. "Student, model, nurse." Some professionally shot "sexy and sassy" photos to send to potential sugar daddies are also useful, but she urges the audience to avoid men who talk too much about sex and ask for photos but never to meet. Those who flake repeatedly are also a waste of time, she adds. "Some will even go as low as pretending there's been a family death to avoid meeting you."
Doesn't it all make dating seem a bit cold and businesslike? But that's the beauty of it, suggests Seeking Arrangement founder Brendon Wade, who thinks he's nailed the formula for successful relationships. Asked why people should become sugar babies rather than finding a match the conventional way he tells The Independent: "You could do that. You could make numerous mistakes and you could fail that way. I've been married and divorced three times. Or you could learn the faster way. A lot of sugar babies are teaching the newbies the sorts of mistakes they have made and what they've found to be the most successful way to finding relationships that they truly enjoy."

Wade adds that he's going through a "messy divorce" so he's using the website himself at the moment. As the founder, he's the original sugar daddy, he adds.

As a younger man, he was "shy, dateless and incapable of finding a woman" he recalls. His mother told him that if he concentrated on his studies and became successful, women would flock to him.

"But when I was in my thirties I had a Bachelor degree and an MBA and I was still dateless. I tried to solve that and date. I was not successful. I would create profiles on dating apps and write hundreds of message but still had no luck. So I thought 'why not base a concept on my mother's idea?'"
Wade compares using Seeking Arrangement to honing your career skills. "Your career is very important. That's why you create a CV. But romantic relationships are equally important. But people aren't using the same goal oriented approach. Most of us beat around the bush, date, and don't specify what we want. We fall in love, and then perhaps months or years later we realise 'wow this is a mismatch'. What we need is to do is teach people how to date effectively," he argues. After all, he goes on, in the past parents would set up arranged marriages based on what their child had to offer on paper, so what's the harm in modernising that approach?

Among the women taking a punt on Ward's idea is Natalie Wood, a 31-year-old beautician. She has has been using Seeking Arrangement for a few years. One man whom she met on the website flew her to Indonesia to meet him, gave her £10,000 and money for shopping, she says, beaming. Unfortunately, that relationship broke down a few months in because of the man's circumstances, but he continued to look after her afterwards, she says. At the summit after-party she hopes to pin down some sugar daddies who might otherwise be too busy to meet her.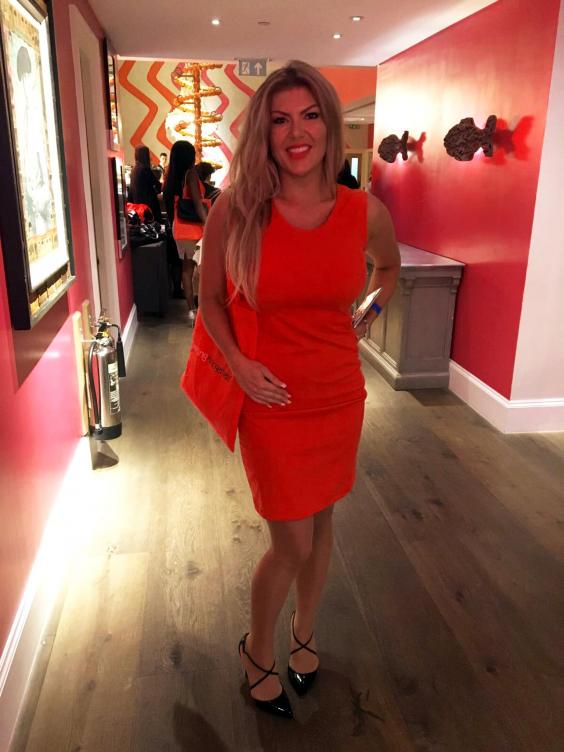 Natalie Wood was given £10,000 by a sugar daddy (Seeking Arrangement)



"I really like this website because you can be honest about what you want. I want someone successful, an older mentor. Someone who doesn't mind spending their money, and enjoys a luxury lifestyle. And if he's not in London I can go on this website and find him internationally."

In the end, she hopes to find a man to help her set up a salon and, ultimately, someone to marry. Her friends recommended that she try the website in the first place, and she'd happily do the same, she adds.

Others are more nervous about people knowing that they are at this event, presumably because of the stigma attached to unconventional relationships based around money.

I want someone successful. Someone who doesn't mind spending their money
Natalie Wood, beautician and sugar baby

Donna Summer, a 32-year-old beauty therapist based in Hastings, says she's nervous about being here today, and hasn't told her friends or family that she's using Seeking Arrangement.

"I was very apprehensive before I came here that there would be more beautiful women than me," she says quietly. "I'm going to the party after this and I'm a bit nervous." Summer was scared the event would be "dodgy", but is now happy to seek advice from veteran sugar babies on whether or not she needs to declare the money she is given for tax, and other financial questions.

"I'm getting older I don't have much time left to find someone, so I thought 'let's just take the plunge and do it'. Life's too short, and you'll probably end up in some horrible relationship anyway. So why not do this?" she reasons.

One 26-year-old from London, who asks to be identified as Nina Sky, has been using Seeking Arrangement for four years, and forged one two-and-a-half-year relationship, and one which lasted under a year. "I've been to many countries, gotten gifts. You name it: bags, pets, furs. Loads of things," she says.

Sky has always been attracted to older men, and is foremost looking for a "gentleman". A man who is settled emotionally, financially and mentally. She doesn't have an age limit, but draws the line at someone with poor hygiene.

"I had a Tinder profile up until recently but I just think this is so much better for me. I'm very direct and I like to know where I stand from the beginning. It just avoids confusion," she says. But Sky disagrees that she takes a businesslike approach to dating. "It's not a business. It's finding a mutually beneficial agreement and if it leads to love, then amazing. But I think you need to know what you want."

The women add that they are unfazed by people who want to judge them, or accuse them of being gold diggers. And of course the sugar daddies aren't here to defend themselves against anyone who might accuse them of taking advantage of people. They're at the party, where the press aren't allowed.

"I would say to someone who might call me a gold digger that I'm reaching out to find what I want. If I want a better life and to make my life the best, I will," says Wood. "Maybe they're just jealous of my fantastic lifestyle." And who said romance is dead?